Back
DoR Kards: a game to co-create the team Definition of Ready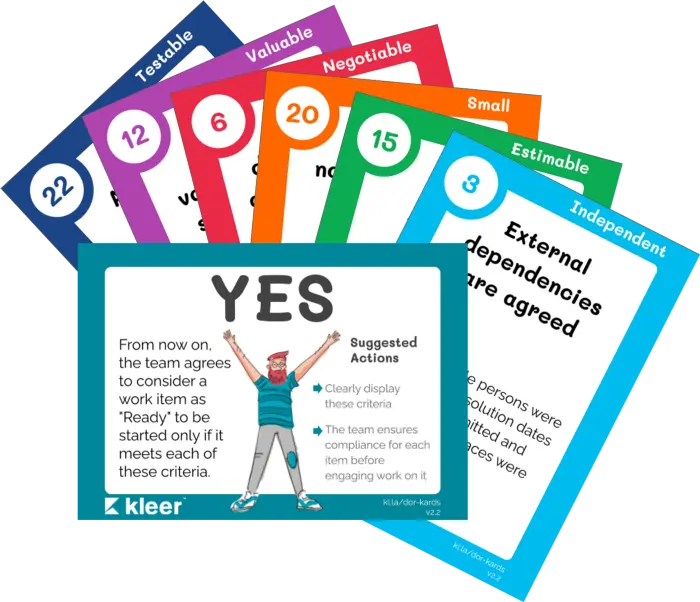 After the success of the DoD Kards to co-create the team definition of done, I am happy to share a new card game: the DoR Kards. English translation by Agustina Leudesdorf and Pablo Lischinsky.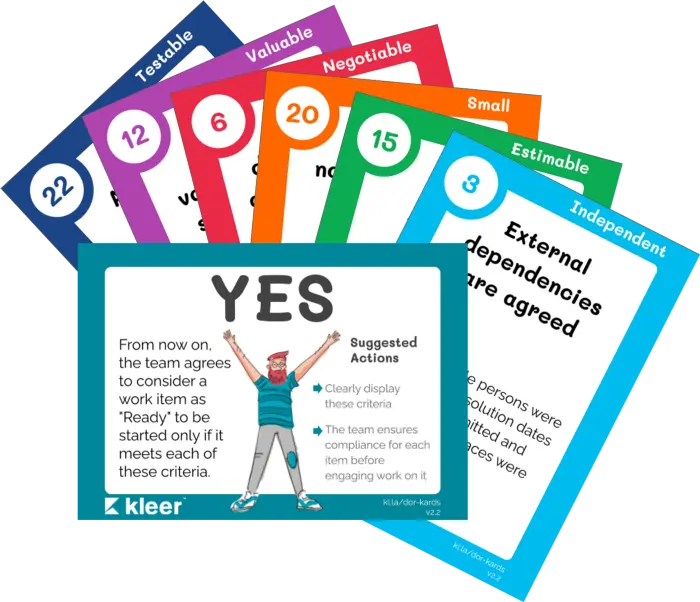 It is a card game where the goal is to brainstorm and reach consensus as a team on the criteria to be included in its Definition of Ready (DoR).
Son of the Agile Open Camp
During the Agile Open Camp Chile 2018, I proposed a session entitled "Poo in, poo out", to discuss the definition of ready concept and create a prototype of the DoR Kards game. Although very ambitious for a 45-minutes session, we managed to create the basis of this card game.
Many thanks to Jorge Roldán, Yohan Paez, María Codecido, Daniela Yonusg, Aldemaro Díaz, Ernesto Moyano, Cristhian Arias, María Allones, Constanza Pizarro, Marco Nuñez, Dario Palminio and Ricardo Jara for their participation in the session and their ideas, criticism, good vibes and energy !!!
What is the Definition of Ready?
The Definition of Ready (DoR) is a contract co-created by a team, which is applied to all the elements they are working on. It determines a set of minimum conditions that must be met in order for the team to start working qualitatively and smoothly on each element.
It is a team commitment, which can be improved over time.
In what context should DoR Kards be used?
The scope of the game is DoR in the context of software development, applied to elements of a Product Backlog (PBIs, often expressed as user stories), but can be extrapolated to other contexts.
The cards
The game offers criteria cards, which can potentially be part of the Definition of Ready of a team. For example: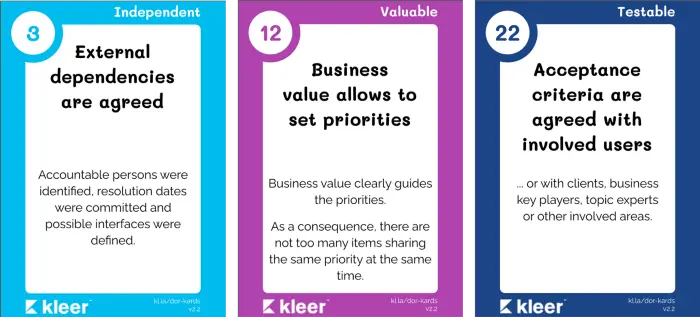 There are also empty criteria cards, to add your own criteria.
And finally, there are choice cards:
YES, for the criteria to be included in the team Definition of Ready.
NOT YET, for criteria that cannot be included at this time, but that should be considered later.
NO, for criteria that cannot be applied, are unclear, not seen by the team as part of the Definition of Ready, or for which the team cannot agree.

Printing recommendations
It is recommended to print the cards in color, in A6 (105 x 148 mm) or similar format, on 300 gr laminated paper. Another option is to use a lower quality paper and laminate the cards or use them in transparent plastic envelopes, allowing you to make notes on the envelope with a whiteboard marker. The last card serves as the back of the other cards.
Rules of the game
Place the YES, NOT YET and NO cards on a table or wall in a line.
Shuffle all the criteria cards (cards 1 to 25) and put them in a single pile, face down, accessible to everyone.
Place the empty criteria cards (cards 26 to 30) in another pile.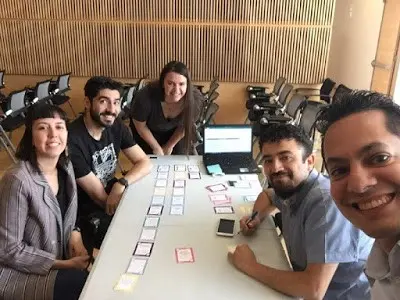 In turn, each player: takes a card from the criteria pile and read it out loud. Places this card on the column she considers the most suitable (YES, NOT YET and NO). If another player disagrees, the team discusses together to find a common agreement. If there is no agreement within a predefined time frame, the card is placed on the NO column.
Repeat until the criteria pile is exhausted or the team decides to stop.
A player can create a criteria card from the empty cards (cards 26 to 30) by writing its definition and use it during his turn.
Play online
If you can't play with the team in person and/or if you prefer, you can use DoR Kards online, in different formats:
When you click on this link, you will need to log into Google (if you are not already logged in). You can then create your own copy of the DoR Kards Online file, to share and use without moderation with your team. Follow the instructions on the card How to play online?
By clicking on this link you will be able to create a new DoR Kards board in Mural. You will need to log into Mural (if you are not already logged in).
What's next?
It is very useful to give high visibility to the criteria of the Definition of Ready granted by the team at its workplace (or its digital equivalent). For example, you can place the selected criteria cards on your task board.
We recommend that you play regularly in order to keep a continuous improvement of the team's DoR (every 2–3 months).
For your feedback on the game, you can use the hashtag #DoRKards on Twitter.
A big thank you to Agustina Leudesdorf and Pablo Lischinsky for their collaboration for the cards translation!
The DoR Kards are also available in French, Spanish and German (PDF, Google Slides, Mural).
---
The DoR Kards are a creation of Kleer, by Thomas Wallet, inspired by David A. Koontz's Definition of Done Exercise, and are distributed under a Creative Commons Attribution-ShareAlike 3.0 Unported license.